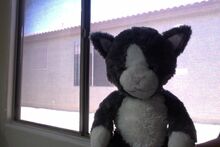 Background information
Edit
Feature films
Edit
Stuff Animals Movie (2013)Stuff Animals Christmas Movie Live Action and Animation MovieHarry Potter SeriesStuff Animals and Little Animals MovieStuff Animals 2nd MovieStuff Animals the Movie (2016)
Television programs
Edit
Animals_(TV_series) Stuff Animals
Video games
Edit
Animals_(video_game) Stuff Animals
Park attractions
Edit
Studios Land! Anthony Studios Land!
Portrayed by
Edit
from Disney_Meg from Dinsey (in alot of voices and a lot of voices)
Inspiration
Edit
Meg, the Greek Mythogolgy Medusa in Rescuers and a lot of based on
Other names
Edit
Stuff Animals (Tv Series)
Edit
Gray Cat is in Stuff Animals Sometimes he is a boy or a girl in that show.
Anthony Studios Gallery Anthony Studios Wiki has a collection of images and media related to Gray Cat .==TriviaEdit==
Ad blocker interference detected!
Wikia is a free-to-use site that makes money from advertising. We have a modified experience for viewers using ad blockers

Wikia is not accessible if you've made further modifications. Remove the custom ad blocker rule(s) and the page will load as expected.